Get the Look: Anne Hathaway in Belmain
Hello graphic! This look is much out of my comfort zone but it's still utterly fantastic and feminine. The first thing I notice is Anne Hathaway's bright smile. Isn't that what fashion is all about? Having fun, smiling, laughing and setting your spirit free? Get this simple, graphic, tailored look with a few key pieces: black trousers, a tuxedo jacket or blazer and a rocker tee.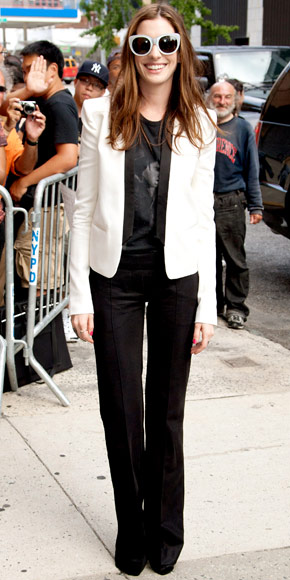 Get the look for less with the Ponte Knit Editor Pant from Express; the Asos Linen Boyfriend Blazer from Asos.com or the White Boyfriend Jacket from Guess; and the Vintage Havana graphic tee from Bluefly.com.
Pair the outfit with stellar accessories: Funky, retro sunglasses, bold jewelry and bright, hot pink nails. Try the Candies Bow Cat Eye Sunglasses from Kohls or the Sabre Vision Runaway Sunglasses from Endless.com; the black onyx Perfect Faceted Earrings from Stella & Dot; the graphic Nouvelle Cocktail Ring from Stella & Dot; and add a pop of color with Butter London 3 Free Nail Lacquer from Revolve Clothing.